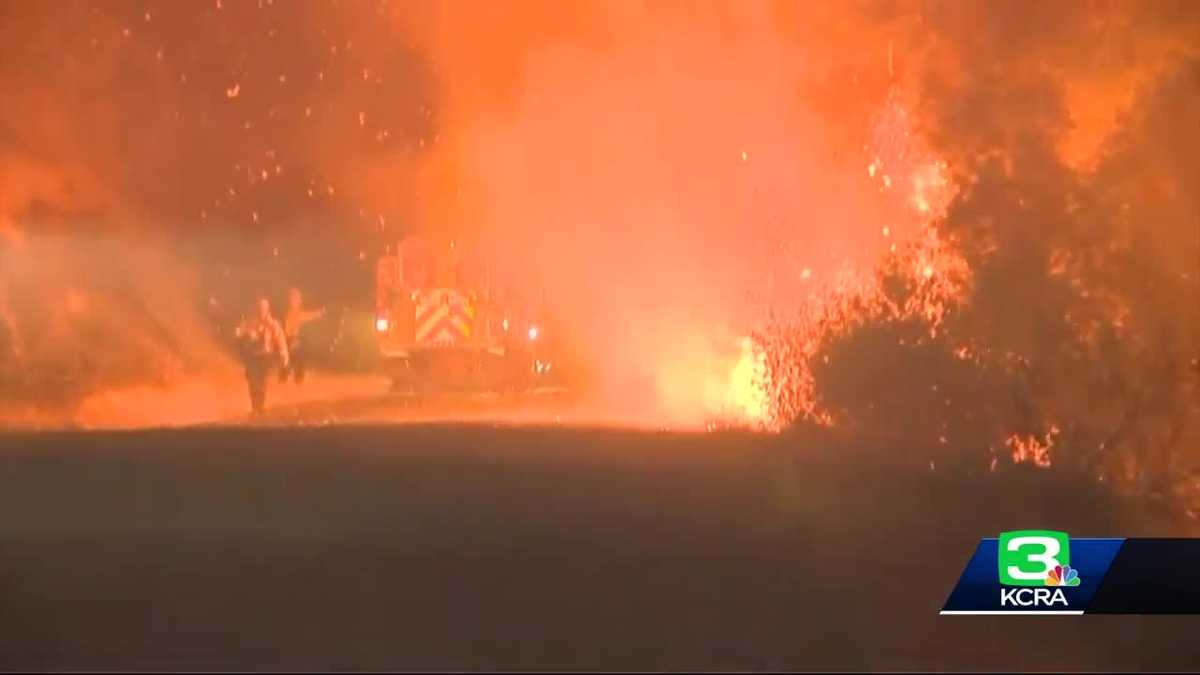 PARADISE, Calif. (KCRA) —
Tens of thousands of people were forced to leave their homes Thursday as a destructive wildfire continued to grow in Butte County, prompting more evacuations orders.
The fire, called the Camp Fire, has destroyed several hundred structures — including homes and businesses — in Paradise, is threatening 15,000 other structures and has injured multiple people.
"Pretty much the community of Paradise is destroyed, it's that kind of devastation," Cal Fire Capt. Scott McLean said late Thursday. "The wind that was predicted came and just wiped it out."
The wildfire ignited around 6:30 a.m. in the Camp Creek Road area near Highway 70 in the Feather River Canyon.
As of 7: 15 a.m. Friday, the fire was estimated to be 70,000 acres, according to Oroville office of the California Highway Patrol.
The cause of the fire is unknown.
EVACUATIONS
The towns of Pulga and Paradise have been told to evacuate, officials said. If you need assistance evacuating, call 911.
Parts of east Chico were evacuated by police. The Chico Fire Department said the wildfire has not moved into city limits.
Classes and events at Chico State were canceled because of the fire.
"The severity of this fire is without compare," the California Highway Patrol said. "Please listen to evacuation orders and leave immediately when notified!"
Below is the latest list of evacuation orders:
++ The area of Stirling City and Inskip
++ East of Bruce Road between Highway 32 to E 20th Street in Chico
++ Canyon Oaks Subdivision (beyond the gate) in Chico
++ Upper Magalia, which includes Humbug, Lovelock, Powellton, Stirling and North Coutelenc
++ Town of Pulga
++ Butte College
++ Town of Paradise
++ Magalia, Concow, Centerville and Butte Creek Canyon areas
++ Area of Nelson Shippee Road
++ Highway 32 at Nople Avenue down to the Chico City Limits
++ Cherokee from Highway 70 to the lake south to Table Mountain Boulevard
++ Oro Chico Highway from Durham Dayton north to Estates Drive
++ Butte County has issued evacuation orders for the following zones: Nimshew Zone, Lower Clark Zone, Lower Skyway Zone, Lower Neal Zone, Upper Honey Run Zone, Carnegie Zone, North Pines Zone, North Fir Haven Zone, South Fir Haven Zone, South Pine Zone, Old Magalia Zone and South Coutelenc Zone
++ All of Clark Road and all of Pentz Road south to Highway 70, everything west to 99 and south to 149
++ Area of Highway 70 from Pulga down to the West Branch Bridge on both sides of road including Yankee Hill
Evacuation warnings are in place for:
++ Area from Highway 99 eastbound to Highway 70, from Hwy 162 north to Hwy 149
++ Area west of Highway 99 from Hwy. 149 north to Chico City Limits west to Midway
++ Skyway from Lower Paradise down the Skyway to the Chico City Limits
++ Hwy 32 to Nople Avenue up to Butte County Line
All schools in Butte County will be closed Friday due to the wildfire, officials said.
EVACUATION SHELTERS
The evacuation center at the Neighborhood Church in Chico and the Chico Elks Lodge is full, Butte County officials said. Room is still available in the following evacuation centers:
++ Oroville Nazarene Church at 2238 Monte Vista Ave. in Oroville
++ Butte County Fairgrounds at 199 E Hazel St in Gridley (large animals welcome)
++ Yuba-Sutter Fairgrounds at 442 Franklin Ave in Yuba City
++ Glenn County Fairgrounds at 221 E. Yolo Street in Orland
++ County Hospital at 2279 Del Oro and Mono, Suite E for small animals
Butte County officials are asking evacuees to register with the Red Cross Safe & Well website. Concerned family and friends can also search for evacuees on the site through "Search Registrants."
INJURIES
Seven people have been injured so far, including two firefighters, according the Butte County Sheriff's Office.
CHP said it has aircraft working with Enloe Medical Center to treat patients.
BATTLING THE BLAZE
Windy conditions and low humidity caused the flames to spread quickly, officials said.
"Firefighters continue to be challenged with extreme fire and weather conditions including strong winds and with long range spotting," Cal Fire said in a statement.
Later Thursday night, the fire jumped Highway 99 at Durham-Pentz Road, prompting officials to close the highway in both directions from the Highway 149 junction and through the city of Chico.
The fire was moving toward a Paradise hospital on Pentz Road, the California Highway Patrol said Thursday afternoon. More than 60 patients were evacuated to other facilities, some buildings caught fire and were damaged, but the main facility, Adventist Health Feather River Hospital, was not, spokesperson Jill Kinney said.
Some of the patients were initially turned around during their evacuation because of gridlocked traffic and later airlifted to other hospitals, along with some staff, Kinney said.
Four hospital employees were briefly trapped in the basement and rescued by CHP officers, Kinney said.
Officials were sending as many firefighters as they could, Cal Fire spokesman Rick Carhart said.
"Every engine that we could put on the fire is on the fire right now, and more are coming," he said. "There are dozens of strike teams that we're bringing in from all parts of the state."
Fire officials said the flames were being fueled by winds, low humidity, dry air and severely parched brush and ground from months without rain.
"Basically, we haven't had rain since last May or before that," said Read, the fire chief. "Everything is a very receptive fuel bed. It's a rapid rate of spread."
Acting California Gov. Gavin Newsom has declared a state of emergency for the area.
Nearly 2,290 fire personnel are fighting the blaze, including 303 engines, 11 water tenders, 11 helicopters, 59 hand crews and 24 dozers.
"Numerous firefighting air tankers from throughout the State are flying fire suppression missions as conditions allow," Cal Fire said in a statement.
Butte County Sheriff Kory Honea confirmed reports that evacuees had to abandon their vehicles. Rescuers were trying to put them in other vehicles, he said.
"We're working very hard to get people out. The message I want to get out is: If you can evacuate, you need to evacuate," Honea said.
The National Weather Service issued red-flag warnings for fire dangers in many areas of the state, saying low humidity and strong winds were expected to continue through Friday evening.
ROAD CLOSURES

++ Westbound Highway 70 from Garden Drive to Highway 89 junction
++ Eastbound from Highway 89 junction to Highway 149 junction
++ North and southbound Highway 99 from Shipee Road to Southgate Avenue
++ Highway 191 at the Highway 70 junction
++ Highway 70 between Pentz Road to Plumas County line
Click here for more information on road closures.
CAL FIRE MAP
Stay with KCRA for updates.
Source : Google