Sam Brinton — the embattled former Biden administration official charged with multiple airport thefts — once led the Washington, DC, chapter of the anti-Catholic group that was invited to a "Pride Night" hosted by Los Angeles Dodgers.
Brinton was the chief executive officer of the DC Sisters of Perpetual Indulgence from its founding in 2016 to 2018, according to tax filings reviewed by Fox News Digital. The group is part of the San Francisco-based Sisters of Perpetual Indulgence, a group of drag queens who regularly mock the Catholic Church and make headlines after being disinvited and re-invited to the upcoming Dodgers Pride Night.
"When we were asked, 'Why do you mock the nuns?' we answered: 'We are nuns!' We do everything traditional nuns have done for centuries," says the DC Sisters of Perpetual Indulgence website.
It added that the group is committed to the "promulgation of universal joy and the expiation of stigmatic guilt" and that its ministry is "one of public manifestation and habitual perpetration."
SAM BRINTON'S LATEST ARREST INCLUDES STEALING OF TANZANIAN FASHION DESIGNER'S CLOTHING, LAWYER SAYS
As the chief officer of the DC chapter, Brinton goes by the name Sister Ray Dee O'Active and regularly hosts group events including "bar ministry" gatherings, drag brunches, protests at the White House and even a " high heel race." Brinton, under that alias, also attended an Easter gathering hosted by the national organization in San Francisco in 2019, according to local media reports.
SAM BRINTON, NON-BINARY BIDEN OFFICIAL, STOLE JEWELRY WORTH $1,700 IN SECOND LUGGAGE THEFT: POLICE
"We are celebrating 40 years of history," Brinton, as Sister Ray Dee O'Active, told Mission Local during the event. "For some of us, it's the first time we've seen so many sisters in one place, and I think it's the best kind of family reunion."
"Tufts of hot pink feathers float gently in the wind as one woman proudly displays her twirl-worthy green tutu," Mission Local reports. "Behind him, a man in a multicolored unicorn hat adjusts a purple feather boa around his neck. A boy shields his face from the sun with his mother's hands, while a group of neighborhood children inspect their candy-filled Easter eggs."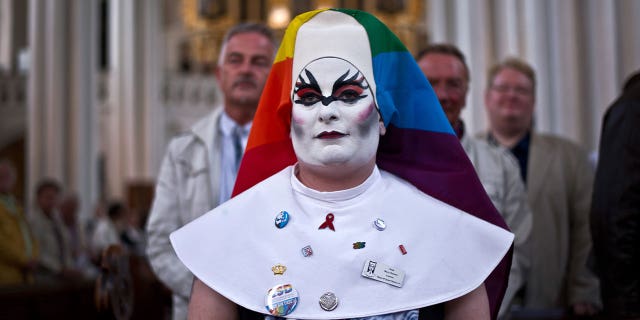 On Monday, days after disinviting members from the Sisters of Perpetual Indulgence to its June 16 Pride Night in response to criticism from Catholics, the Dodgers announced that the team will, in fact, group host.
"After much thoughtful feedback from our diverse communities, honest conversations within the Los Angeles Dodgers organization and generous discussions with the Sisters of Perpetual Indulgence, the Los Angeles Dodgers would like to offer our sincere apologies to the Sisters of Perpetual Indulgence, members of the LGBTQ+ community and their friends and families," the baseball team said in a statement.
LA DODGERS CONDEMNED FOR AGAIN INVITATING ANTI-CATHOLIC LGBTQ GROUP TO PRIDE NIGHT: 'VULGAR, GROTESQUE'
Meanwhile, Brinton — who made headlines last year after being appointed to a position overseeing nuclear waste policy at the Department of Energy's Office of Nuclear Energy as a non-binary gender-fluid person — faces a series of legal problems in recent months arising. from three alleged thefts of luggage at multiple airports across the country.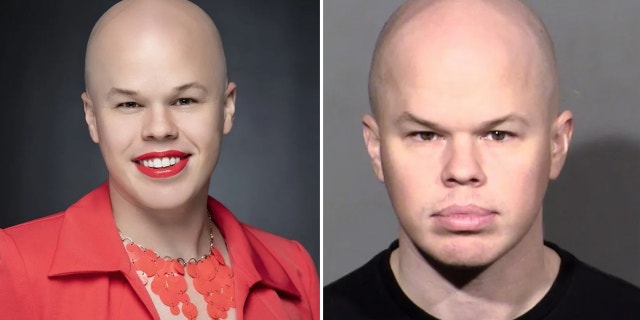 Police charged Brinton in October with stealing traveler's luggage worth a total of $2,325 from a baggage carousel at the Minneapolis-St. Paul Airport after taking off from Ronald Reagan Washington Airport on September 16.
CLICK HERE TO GET THE FOX NEWS APP
Then, in early December, Las Vegas prosecutors charged Brinton with grand larceny of an item valued between $1,200 and $5,000. Police accused Brinton of stealing a suitcase with a total estimated value of $3,670 on July 6 at Harry Reid International Airport in Las Vegas. The bag contained $1,700 worth of jewelry, $850 worth of clothing and $500 worth of makeup.
And earlier this month, Brinton was arrested in Maryland as a "fugitive from justice." Police later confirmed that the arrest was related to a 2018 robbery at Ronald Reagan Washington Airport. A lawyer for a Tanzanian fashion designer said the theft was linked to his client's luggage containing custom designs.