A memorial honoring law enforcement officers killed in the line of duty was defaced this week by the burning of American flags days before the start of National Police Week.
According to the National Fraternal Order of Police (FOP) and a report by the Louisville Courier Journal, the crime occurred late Wednesday at the Louisville Law Enforcement Memorial in downtown Louisville, Kentucky.
Two American flags appear to have been burned in the eternal flame atop the memorial in Jefferson Square Park, not far from the Louisville Metro Department of Corrections building, the report said.
UTAH LAWMAKER'S HOUSE VANDALIZED AFTER HE PASSES BILL TO BAN TRANSGENDER SURGERIES: 'TRANNIES BASH BACK'
"As we approach the National [Police Week], a time when we honor our fallen brothers and sisters, a monument honoring fallen officers in Louisville was vandalized. Thieves who desecrate this memory will be caught, and when they are, no mercy will be given! The memories of our fallen officers will live forever in our hearts and minds," the FOP wrote in a tweet Thursday, along with a photo of the damaged memorial.
Ryan Straw, the vice president and government affairs director for the Kentucky FOP also posted a tweet with a photo. "What a slap in the face this is to our families of the fallen, our officers still serving, and the entire community," he wrote.
According to the report, officers responded to a call at approximately 11:15 pm Wednesday and found two burnt flags draped over the memorial. Most of the debris was cleared by Thursday morning, except for some of the remains of the flags scattered on the ground and the damage to the memorial itself.
CLIMATE PROTESTERS FLAT BOSTON SUV'S TIRES IN RICH NEIGHBORHOOD, ANGRY RESIDENTS
The report said Louisville police are reviewing video of the incident, and an official with the Louisville police media relations office told Fox News Digital that the crime is still under investigation.
A Kentucky priest named Father Jim Sichko offered to pay to have the memorial repaired. "I'll cover the cost to get it back. SOMEBODY LET ME KNOW THIS," he wrote on Twitter in response to the FOP.
The memorial was previously vandalized in 2020 during protests and riots following the death of Breonna Taylor, who died when police raided her apartment in connection with a drug investigation.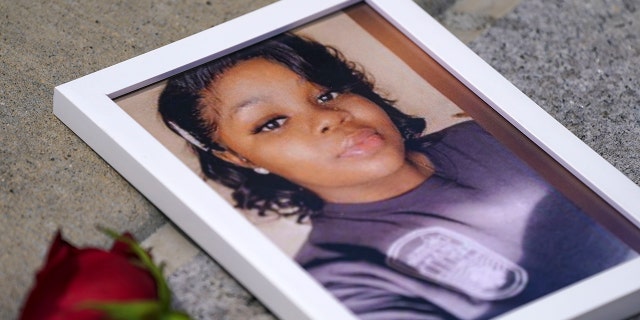 CLICK HERE TO GET THE FOX NEWS APP