Homeland Security Secretary Alejandro Mayorkas on Friday took aim at the "unscrupulous" smugglers responsible for the deaths of two migrants on a rail car in Texas – accusing the smugglers of "just making money."
"We are saddened to learn of another tragic incident of migrants making the perilous journey," the DHS chief said in a statement.
The Uvalde Police Department said about 15 people in need of medical attention were found on the rail car, which was stopped by the Border Patrol two to three miles east of Knippa, Texas, after a 911 call warning of migrants vomiting . Two of those migrants died, five were air-lifted to San Antonio, and five were taken to nearby hospitals.
Mayorkas praised Border Patrol agents and Immigration and Customs Enforcement (ICE) Homeland Security Investigations (HSI) agents who are supporting the investigation.
"We will work with the Uvalde County Sheriff's Office to hold them accountable," he said. "Smugglers are mean and only care about making money."
MIGRANT DEATHS ON TEXAS TRAIN MARK LATEST BORDER INCIDENT IN STRING OF RECENT TRAGEDIES: 'HEARTBROKEN'
The tragedy comes after the deaths of eight migrants earlier this month on two smuggling vessels that capsized off the coast of Southern California and is one of several deadly incidents at or near the border in recent years.
In FY 2022, there were 856 migrant deaths, marking the highest on record and coming amid a record number of migrant encounters at the southern border.
TEXAS AUTHORITIES SAY AT LEAST 2 MIGRANTS DEAD, MORE THAN A DOZEN INJURED AFTER SUFFOCATING IN TRAIN CAR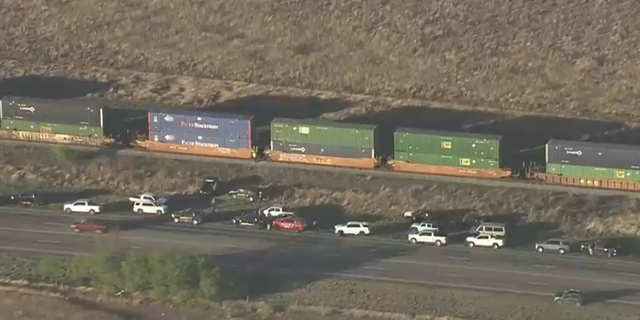 The administration has repeatedly appealed to migrants not to make the treacherous journey north and not to put their lives in the hands of smugglers. Instead, they called on migrants to take advantage of legal asylum pathways created or expanded by the administration – while also addressing "root causes" in Central America.
However, while the administration believes it has turned the corner and saw a drop in illegal border crossings in January and February, crossings remain high, and Republicans have blamed the crisis on the Biden administration's rollback of border protections of the Trump era.
House Republicans are targeting Mayorkas, in particular, for his handling of the crisis. Some Republicans, including Speaker Kevin McCarthy, have floated the possible impeachment of the DHS chief, while others have introduced articles of impeachment against him.
Mayorkas has since dropped those calls but recently came under fire when Border Patrol Chief Raul Ortiz told lawmakers that DHS has no "operational control" of the southern border. Mayorkas told lawmakers last year that DHS has control over border operations.
CLICK HERE TO GET THE FOX NEWS APP
The hearing was held by the House Homeland Security Committee to "examine the direct link between President Biden and Secretary Mayorkas' reckless border policies and the unprecedented crisis on our Southwest border" and it was a with several hearings and visits held right on the border with Republicans, now that they control the chamber.
Fox News' Bill Melugin and Brie Stimson contributed to this report.