Democratic and Republican leaders took turns accusing the other party of being "extreme" Friday after the House of Representatives passed the Parents Bill of Rights Act mostly along party lines.
In the lead-up to the vote, Democrats accused the bill of promoting "fascism" and said it was "extreme," saying it would lead to the banning of books and the expulsion of LGBTQ+ students. No Democrats voted for the legislation, and after it passed House Minority Leader Hakeem Jeffries, D-N.Y., told reporters that the GOP was trying to "jam their right wing ideology down the throats of students, teachers and parents across America."
"Extreme MAGA Republicans want to ban Holocaust books. Ban Holocaust books. Extreme MAGA Republicans want to ban books about Martin Luther King Jr. Extreme MAGA Republicans want to ban travel books of LGBTQ in the United States of America. Extreme MAGA Republicans even want to ban a book about Roberto Clemente and baseball," Jeffries said at the weekly Democratic press conference on Friday. "That's their educational agenda."
House Speaker Kevin McCarthy, R-Calif., also led a news conference with members of his party, firing back at Democrats for opposing the bill.
'PARENTS BILL OF RIGHTS' WINS ZERO VOTES FROM DEMS WHO CALL IT 'FACISM,' 'EXTREME' ATTACK ON SCHOOLS
"We have such an extreme minority party that they could not even denounce socialism," McCarthy said, referring to a House resolution condemning socialism that Democrats opposed. "Such an extreme minority party that thinks you should decriminalize carjacking and even some forms of murder. Such an extreme minority party, in the Democrats, that they don't think the Democrats should have a say parents in the education of their children."
Republicans say their laws fuel anger from parents across the country about access to information on everything from school curriculum to safety and privacy policies to the spread of gender ideology and critical race theory in the classroom.
The Parents Bill of Rights Act would require school districts to give parents access to curriculum and reading lists and would require schools to notify parents if school staff begin encouraging or advance their child gender transition.
GOP SET UP VOTE ON PARENTS BILL OF RIGHTS TO STOP PUBLIC SCHOOL 'INSANITY'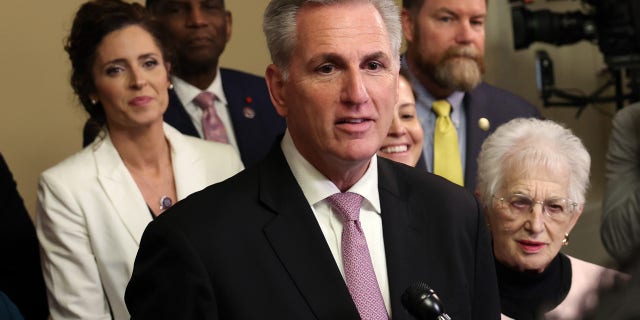 Democrats see it as an attack on LGBTQ+ people. They argued that letting parents know if their child is using different pronouns or expressing as a different gender at school "leaves" them before they are ready, causing harm.
The bill says parents have a "right to know if a school employee or contractor is acting to … change a minor's gender markers, pronouns, or preferred name; or … allow a child to change sex-based child accommodations, including locker rooms or restrooms."
HAKEEM JEFFRIES, EXPLODED FOR SAYING GOP DOESN'T WANT KIDS TO 'LEARN ABOUT THE HOLOCAUST': 'DISGUSTING LIE'
Regarding book bans, the text of the bill states that parents have the right to "a list of books and other reading materials available in their child's school library" and can "inspect the such books or other reading materials." There is no legislative language that directs schools to remove books from the library or create a list of prohibited books.
House Republicans argue that the books under attack in some states and communities are those that contain explicit sexual content that they say is inappropriate for certain ages and not a basic educational requirement. Democrats insist those arguments are an excuse to target LGBTQ+ content in schools, motivated by bigotry and hatred.
CLICK HERE TO GET THE FOX NEWS APP
The Parents Bill of Rights Act now heads to the Senate, where Democrats hold the majority. Should the bill come to a vote and pass, President Biden will almost certainly side with his fellow Democrats and veto it.
Peter Kasperowicz of Fox News contributed to this report.